I live in my own tech bubble. I work in the performance division of a world class online security firm, so most of my colleagues get the latest apps, phones, and PCs. Many of my friends are also tech enthusiasts, always trying the newest and shiniest devices.
But step outside those spheres, and things change. There is a whole other reality out there. My family and wider circle of friends, people on the streets and trains, and people in other countries often don't care about owning the latest tech or the newest app. That's the real world. And I have once again been blown away by our AVG App Report and what people really do on their phones …
Without further ado, here's the top trends that made me raise an eyebrow and mutter "Fascinating!"
Number 1: No, not everyone owns a Samsung Galaxy S7
Sure, I don't expect everyone on earth to have the most expensive and up-to-date Android on the market. But finding out that phones from 2012 and 2013 are still alive and kicking is startling.
Number one on the list is the Galaxy Note II, a phone that came out in September of 2012 – almost four years ago. Then came the S4 Mini, a still super popular phone from early 2013 that apparently just won't die off. With limited storage, old Android 4.x versions, and slowly dying batteries, their owners must be feeling the age when going about their daily tasks and using newer apps.
Though Samsung obviously completely dominates the Android smartphone space, it is not alone. Sony nabbed two spots in the top ten (The Xperia Z3 Compact and Z2 LTE A) and more than 10% of the roughly 20 million devices we logged anonymously that quarter.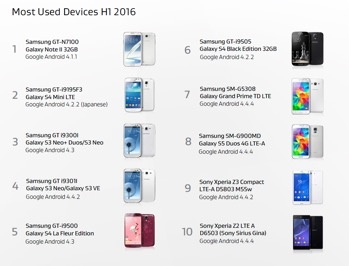 Number 2: The Top 50 Most Commonly Used Android Apps are from Google
Google dominates the mobile OS world. No doubt about that. But Google also dominates its own world. The top most used apps on Android are Google Play Store, Google Plus, Google Quick Search Box, YouTube (yup, that's Google), Google Chrome, Google Maps, and Google Hangouts. Only Facebook and the pre-installed Samsung Push Service made it into the top 10.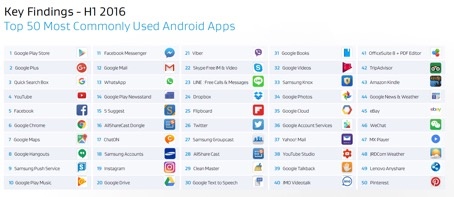 Number 3: Many Apps Are Just Websites-turned-into-apps
The top 50 also includes a lot of websites-turned-into-apps, like Facebook, Tripadvisor, and eBay. The trend is double-edged unfortunately: It's app makers continuing to push users to their mobile app, sometimes very aggressively in the case of Tripadvisor, as almost every step on their mobile website www.tripadvisor.com leads to a "recommendation" to use their apps.
On the one hand, these apps generally offer a more pleasant experience, with nicer animations, more features, and often a better look and feel. On the other hand, many of them also register themselves as startup applications and constantly check for updates and notifications in the background. This drains power and bandwidth.
If your phone doesn't make it to the end of the day, try one thing: Uninstall all these apps and try opening up www.facebook.com, ebay.com, tripadvisor.com (and all the other apps that you've got that are available online) on your mobile browser. The 'manual' approach is likely going to save you a lot of battery life going forward.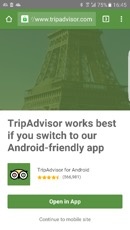 Number 4: Mighty No. 33
Another example of the "real world" bursting my tech bubble: I thought everyone except myself downloads and uses hundreds of apps. It appears both the real world and myself have something in common. I only have a total of 29 apps on my phone that I use more or less regularly, which is slightly less than average. Our anonymized data shows that users have an average of 33 apps installed. (I guess I should up my game as an enthusiast)
Number 5: Miitomo predicting Pokémon Go's future?
Just recently, Nintendo had to announce that it's massive Pokémon Go success will only have a limited impact on their revenue numbers, as most of the cash flow goes to Niantic, the company behind Pokemon (Nintendo owns only 13% of the Pokémon Go app). So while they don't get as much as you might think they do get a boost.
But will it last? Is Pokémon just another typical app fad that goes wild and dies off? (Anyone still playing Angry Birds?)
Nintendo was in a similar situation with its first real app, Nintendo Miitomo, which let you chat with friends as Mii characters using a cool, fun environment. After launch, it died off quickly, as we anonymously logged over 127.000 installs in March – to only 17k in May. So Nintendo can't just rely upon Pokémon Go to secure their future, but might need something that belongs to them and that reinvigorates the gaming market long-term….