Ransomware, like mouthy, slingshot-wielding grade-schoolers, just won't stop popping up. One of the latest, appropriately called Bart, spreads primarily through emails with subject lines about photos and images. Though relatively new, Bart's already wrought havoc, encrypting and demanding payment for files' release far beyond Springfield—in fact, all over the world. And just like the world-famous "The Simpsons" character, Bart creates chaos using simply effective tools, locking users' files in password-protected ZIP files.
But you don't have to be at Bart's mercy any longer. AVG has created a decryption tool for current Bart versions to add to our growing list of decryptors, which you can easily use to foil hackers and keep yourself and your information safe. Do note that this decryptor is effective against the versions we've seen to date. If we have updates, we may post them, but do use caution if you're coming across this fix several weeks or months past its original publication date and no updates have gone live.
How Will You Know Bart if You See It?
Bart ransomware appears to be the work of the same criminals behind Dridex and Locky. Rather than rewriting files with their encrypted versions, like other ransomware families do, Bart moves each file to a separate password-protected archive (ZIP file), then deletes the originals. But the results for the unwitting computer user are the same: no access to their own files … unless they pay a ransom.
Fortunately, Bart's easy to identify. Infected machines include the bart.zip extension on original file names—for example, thesis.docx.bart.zip. Furthermore, the desktop wallpaper is usually changed to an image like this one: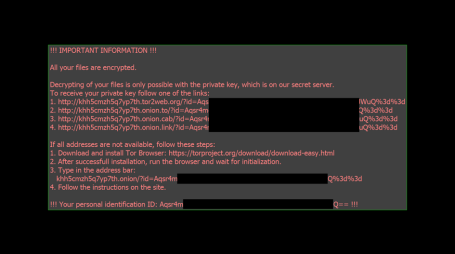 The text on this image can also be used to help identify Bart, as it 's stored in files called "recover.bmp" and "recover.txt" on the victim's desktop.
You Can Get Your Files Back—Easy as 1, 2, 3!
The encrypted files are also easy to recognize, because they're ZIP archives, denoted by .zip extensions. The trick is they're password-protected, by a unique (and looong) password.
But never fear, AVG's Bart decryptor works by comparing a single encrypted file with its unencrypted original. So before you download and run the tool, select an available original file for comparison, then follow these simple instructions:
Select the file you want to compare. If all your files have been encrypted, you can often find an original in one of these places:

A backup from the cloud or on a flash drive or other external drive.
standard Windows sound or picture (e.g. wallpaper), which you can download from the web.
A document, picture, or video you received in an email.

Copy the file to your desktop (Bart no longer encrypts files after asking you for money, so you should be okay) and download and run the Bart decryptor.

A window will open asking you to add the encrypted file and the original (see Figure 2). The encrypted file should be in its original folder, the only difference being the ".bart" extension, as below.

Once you've selected both files, click <NEXT>, and the tool does the rest, just as do all our decryptors.
Acknowledgement
We would like to thank Peter Conrad, author of PkCrack, who hereby granted permission to use his library in Bart decryptor. It takes a village.