Also climbing to the top of the report is the social and blogging platform Tumblr, which has emerged as the highest, traffic-consuming app for the period. Despite the relatively low-level content viewed on the platform – primarily news, short video clips, blogs and some pictures – Tumblr used more data than Netflix and Spotify combined.
Additional findings from the report include:
There is a costly quest for updates: Topping the list of hidden, battery-draining services this quarter is the innocuously named "com.sec.android.fwupgrade," which is responsible for delivering periodic Samsung updates to Android devices via Wi-Fi. As with the similarly update-heavy Samsung Security Policy Update (KNOX) and Google Play apps, the service has a massive impact on the battery life of your device
Your browser 'hoards' data: Google Chrome emerged as the second-highest storage-consuming app this quarter thanks to its collection of user browsing data over time, joining more obvious apps, such as Spotify and Amazon Kindle
Facebook 'mis'-manages: A consistent 'top' performer in our charts, Facebook has a new contender, this quarter, with its monitoring app, Facebook Pages Manager. The app stores a lot of local content as it tracks page statistics, followers and comments while on the move
Though many users make a conscious choice to download and run high-impact apps on their smartphones, AVG's research has found a host of apps which silently drain smartphone resources in the background without the users' knowledge or action. These apps are differentiated in the report as those that run at start-up, versus those that are run by the user. The following apps consumed the most, overall battery drain, storage usage and mobile data combined.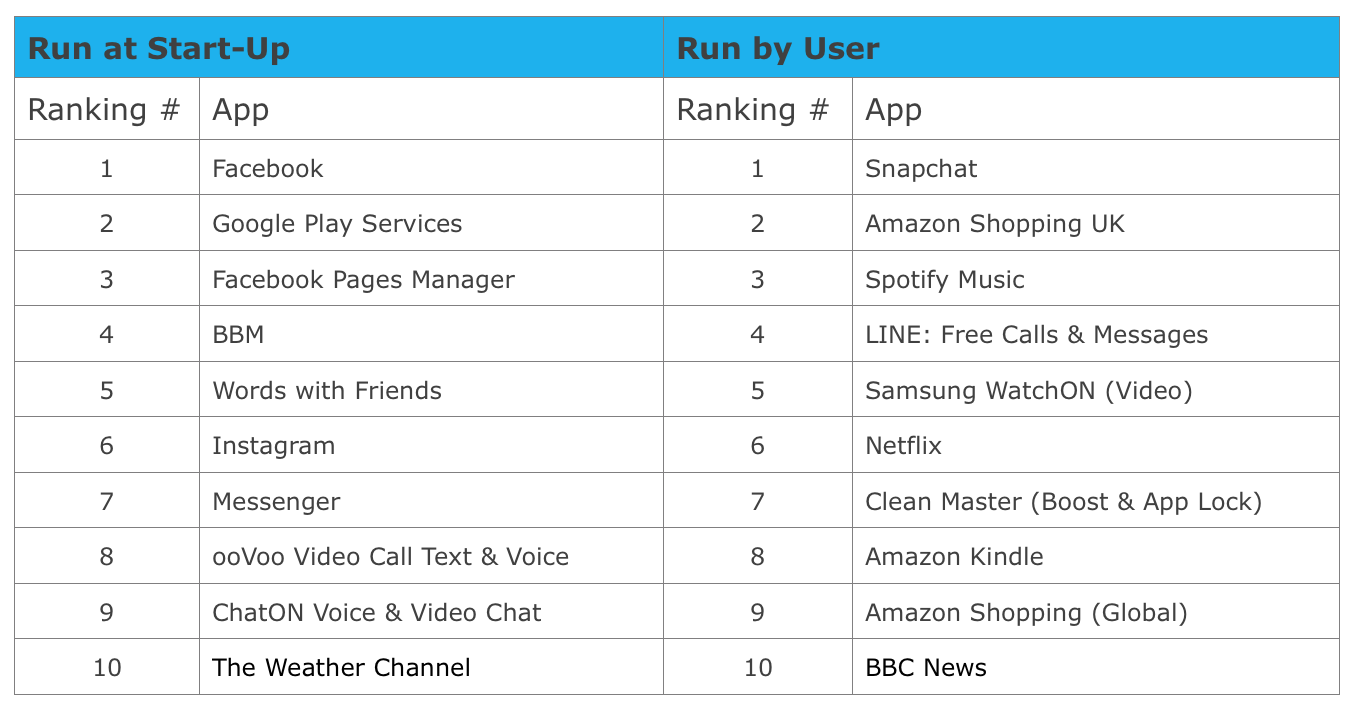 A bad forecast: Both The Weather Channel and Words with Friends were surprise entrants in our start-up chart – with the apps seemingly having no clear need to run invisibly in the background
A drain on your wallet and smartphone: With two of its shopping apps in our top 10 'run by user' list, if you want to save data and battery life on the go, you might want to steer clear of Amazon
"The goal of these reports is not to alarm smartphone users, but rather to enable them to make informed choices about the apps they run on a daily basis," said Tony Anscombe, Senior Security Evangelist, at AVG Technologies. "Apps are meant to enhance, not to detract from your smartphone experience, but with so many options, we are in danger of overloading our devices. If you are one of the people who feels like they are fighting a constant battle with their device's battery, or never have enough storage to save your favorite clips and images, then we want to help you take back control."
Analyzing aggregated, anonymous data from over one million AVG Android app users, the quarterly AVG Android App Performance Report aims to reveal the top performance-affecting apps worldwide – analyzing their overall impact and performance against three key categories – battery drain, storage consumption, and data traffic use.
The full report can be downloaded from http://now.avg.com/android-app-performance-report-q2-2015
About AVG Technologies (NYSE: AVG)
AVG is the online security company providing leading software and services to secure devices, data and people. AVG's award-winning technology is delivered to over 200 million monthly active users worldwide. AVG's Consumer portfolio includes internet security, performance optimization, and personal privacy and identity protection for mobile devices and desktops. The AVG Business portfolio – delivered by managed service providers, VARs and resellers – offers IT administration, control and reporting, integrated security, and mobile device management that simplify and protect businesses.
All trademarks are the property of their respective owners.
Contacts:
North America:
Deanna Contreras
Tel: +1 415 371 2001
Email: deanna.contreras@avg.com
Rest of World:
Zena Martin
Tel: +44 7496 638 342
Email: zena.martin@avg.com
Press information: http://now.avg.com